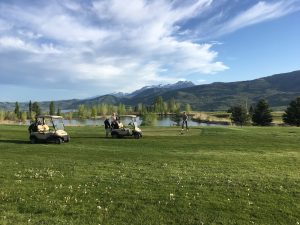 Golf season in the Ogden Valley  is underway at Wolf Creek.  The snow has melted, the magnificent golf course is open and lush, and the new clubhouse will open in June.
A grill, member's lounge, pro shop, and large patio adjacent to the eighteenth green – will offer all the amenities, and opportunities to relax and enjoy the Valley's legendary ambience, before or after you golf.  Or if you just drop by.
Every round played in the spectacular Ogden Valley turns out to be memorable.  Stunning views of the peaks of Snowbasin and Pineview resevoir, fun and challenging holes, and extremely reasonable pricing.  If you haven't experienced golf in our Valley – you need to.
Call 801 745-3737 for more information on the course, the club, and T times.