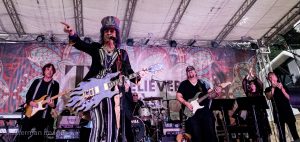 A day of electrifying, passionate performances of iconic songs by the artists who wrote them thrilled a wildly cheering crowd at the inaugural Troubeliever Fest at Snowbasin, August 3rd and 4th.  From early afternoon until midnight on Saturday, a non-stop parade of the music industry's highly acclaimed, much-awarded writers sang and played their versions of their work, and the quality of the experience sets an exceedingly high bar for other concerts to match.
From the melodic beauty of country, folk, and crossover hits, to the hair-raising power of classic rock anthems, the variety of the music was as breathtaking as the quality.  Troubeliever Fest provided an authentic feast for fans of the many genres and eras showcased at this groundbreaking singer-songwriter event.
The Acoustic Café kicked off the music Friday evening inside Earl's Lodge, where a standing room-only crowd listened to local artists and favorites Viviena & Leisina and the Tim Daniels Band.  Monty Powell and Anna Wilson, the founders of TroubelieverFest, Huntsville residents, and multiple award-winning singer-songwriters and performers, joined the artists on stage, and a jam session quickly broke out.  Featured artists Sammy Brue, Middleman/Burr, and Billy Dean joined in.  "Magical" was the comment most heard as the audience filed out.
Shortly after noon on Saturday, Billy Dean, a Grammy winner with Song-of-the-Year and Best-Vocalist awards, took the outdoor stage to kick off the day and evening lineup.  In addition to performing, Dean was the event's master of ceremonies.  According to Powel, "If you want one guy, one voice, one guitar, Billy is the best you'll ever see."  The audience seemed to agree.
Teenage phenom and prodigy Sammy Brue, an Ogden resident, followed Dean, and with his band had the audience on their feet in appreciation of his exceptional talent, songs and energetic performance. Next up was Middleman/Burr, a husband-wife duo, with legendary, hall-of-fame careers as songwriters, and authors of many #1 hits.  They complimented the power and poignancy of their lyrics and melodies with stellar voices, harmonies and guitar prowess.  Again, the crowd loved it.
Powell and Wilson, the festival's founders, along with their band Troubador77, played an inspiring set that showcased their considerable songwriting, vocal, and instrumental talents.  Powell has twelve #1 hits, Grammy awards, a Golden Globe nomination and Songwriter-of -the-Year and Song-of-the-Year credentials, and Wilson wrote the theme song for Habitat for Humanity, the festival's charitable partner.  She also wrote many of the songs they performed, including I've Got a Gun and Open Home, works that meld dynamic, haunting instrumentation with powerful, deeply meaningful lyrics for our troubled times.
A jumbotron next to the stage and a skilled camera operator showcased the artists as they performed, with frequent close-ups focused on their instrumental mastery.
Shawn Colvin has been credited for singlehandedly bringing back the folk genre of music in the 1990s, and she gave stirring renditions of her complex, socially conscious lyrics set to a lovely style of guitar accompaniment.  If Billy Dean is the best male, single voice and a guitar, she may hold the honor for a female.
Following Colvin to the stage was David Pack's Legends Live.  As the guitars and drums exploded in the first bars of their opening number, many in the crowd rushed to the front of the stage, and for the next hour, responded to the electrifying performances as if they had been transported back to Woodstock.  These were iconic, scintillating, hair-raising anthems, from the heydays of classic rock, performed by the famous artists who wrote them.  John Elephante belted out "Dust in the Wind" from Kansas, Richard Page, from Mister, Mister and more recently Ringo Starr's All-Star Band, performed "Broken Wings," and David Pack, founder and lead singer of Ambrosia, displayed his signature voice and guitar skills on his own songs, as well as a rousing cover of Pinball Wizard. And then there was Jim Peterik, founder, songwriter and lead singer of Ides of March and Survivor.  He arrived on stage in Edwardian dress, with purple hair, a huge, purple electric guitar sculpted into a flame, and a top hat. His strong, driving vocals, dramatic guitar licks and stage antics on Vehicle and Eye of the Tiger drove the audience into a frenzy.  The band and backup singers were world class, on fire.  Peterik was dazzling.  This was a classic rock experience at its best.  One to savor.
The evening's final performances, by Rodney Crowell and the legendary Emmylou Harris, went on for over two hours.  Crowell came out first and performed a selection of his many hits.  His smooth baritone and guitar were complimented by an award-winning fiddle player and a young acoustic guitar prodigy who had the older pros and performers, now in the audience, shaking their heads in awe.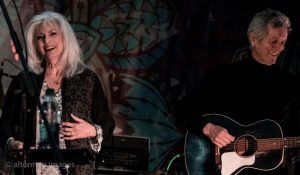 Emmylou Harris was Emmylou Harris – the soaring, crystal clear, other-worldly voice becoming more energized and dynamic as her set evolved.  She remarked more than once, "I really like this singer-songwriter festival.  I get to sing my own songs."  Crowell joined her back on stage, and their smiles and enthusiasm gave away the fun they were having.  The audience was deeply appreciative, raucous in their response to her music, and although her performance had gone well past its' allotted time, she rewarded them with two encores.  A fitting finale to a landmark event in the Utah, and perhaps national, music scene.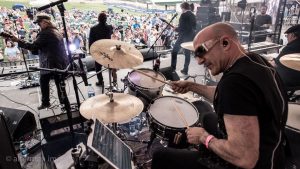 Standing in front of the stage with her Mom as the crew began the break down, local resident Heather Marvel summed it up.  "That was awesome, amazing, the best ever! Anybody who wasn't here really messed up."