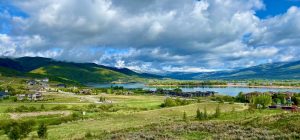 As we are little more than a month away from the Summer Solstice, after a  cold and moderately wet April and early May, Spring has finally arrived in the Valley.  The hills are greening up to match the Valley floor, flowers are blooming everywhere, and Pineview Reservoir's level is up (although still low).  The remaining snow on the peaks and upper elevations of Snowbasin complete the picture-postcard views of the stunning, idyllic beauty of our little slice of heaven.
The summer season is fast approaching, and there are questions to be answered related to the lasting effects of the pandemic.  Will the crowds return to the Valley this year as they did last summer as  Covid restrictions continue to be rolled back?  During the height of the crisis, the pent-up urge to get outside and recreate played a big factor, as did many family's decision to vacation locally rather than risk flying or travelling long distances.  And of course many countries that are popular destinations were completely off-limits.  Due to this year's low snow levels and drought conditions, the level of Pineview may remain well below normal, and this could impact the amount of boat traffic, which was extremely high last summer.
The good news – as the vaccination rate continues to rise, hospitalization and death rates decrease, and people begin to feel much safer that they did last summer, something approaching the "new normal" should make for a great summer!