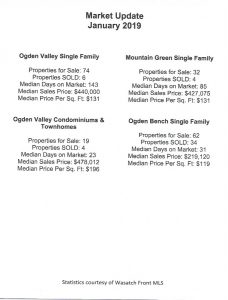 Following the traditional slow-down in residential real estate during the last few months of the year, January statistics show some upward movement in a couple of markets within the Ogden/Ogden Valley area.
Condominiums and Townhomes in the Ogden Valley showed a median sales price increase of 75%+, from $280.000 to $478,000.  This is too large a jump to hold at that level, but it continues an upward trend.  Median days on the market in this category also dropped dramatically, from 120 days to 23.
Single family home sales on the Ogden Bench showed a $20.00 per square foot increase on average, while the median days on the market dropped by 25%.
Inventory is still low in the Ogden Valley and Mountain Green areas, which continues to exert upward pressure on prices.
Snowbasin announced today (2/6/19) that the resort will be a partner with Vail's Epic Pass for the 2019/2020 season, which will bring additional promotion and publicity to the Ogden Valley and Ogden areas, and could result in more potential property buyers.