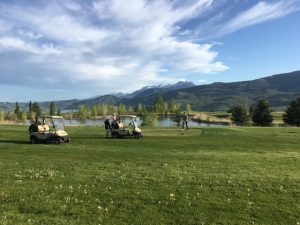 Wolf Creek Golf Course Now Open with Carts
Before I get into the dynamics of the red-hot Ogden Valley Real Estate Market, I would like to offer a sincere, heartfelt "Thank You" to all who participated in the recent online auction to benefit the Ogden Valley Adaptive Sports Foundation.  Due to your generosity and interest in this wonderful organization and cause – the auction was by far our most successful fundraising effort to date.
Now, to what's behind the property market's explosion over the past year.  First, a disclaimer.  I read and listen a lot.  And I've been in the real estate/property development business in the Valley for over twenty years.  But these are my opinions, based on some facts. But only opinions.
Covid has caused many individuals and families to want to leave the congestion of large cities.  Zoom calls and the efficiency of working from home has changed opinions on the need to always be in an office.  Or live near your office.  While many Americans have suffered significant financial hardship from the dynamics of the pandemic, others have prospered over the past year.  These include those who have been able to work remotely, are involved in industries that have prospered (think Amazon, bicycle shops), and investors holding the right securities.  Many of the properties in the Ogden Valley align in price with the resources of those who have prospered.  Travel, dining out, entertaining have all been put on hold, and savings accounts have grown.  As Valley properties have sold at a fast pace, inventory has dropped to levels that keep driving prices up.
So what is the outlook for the next year?  The dynamics listed above, that have created the explosive market, are still in place.  The vast majority of economists and financial experts expect the economy to boom, as the underlying fundamentals are sound and there will be a significant boost as Covid restrictions and the pandemics negative effects continue to lessen.  The Valley's inventory should remain low as there are no spec homes and a limited number of new condos being built.  And although property prices in the Valley have climbed dramatically – we are still well behind other resort areas.  The average price per sq. ft. of single family homes sold in March in the Ogden Valley was $297.00, up from the $160.00 range only a year ago.  In the Park City/Deer Valley area, it was $932.00 per sq. ft.  This price differential is critical – means there is still a lot of room for Valley property values to increase.
All indications are the strength of the seller's market will continue for the foreseeable future.