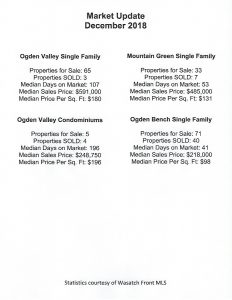 Comparing sales figures for November, 2018 and December 2018, in the Ogden Valley, Mountain Green and Ogden Bench areas, both condominiums and single family homes, the overall trend is fairly steady and continues  upward.
The biggest move in median square foot price was for single family homes in the Ogden Valley, which jumped from $154.00 to $180.00.  Median sales price in the Valley for the same market also went from $522,000.00 to $591,000.00.  The largest increase in median sales price was for single family homes was in the Mountain Green area, which rose from $371,000.00 to $485,000.00.
Inventory in all three areas, single family and condominiums, is still relatively low, which is exerting upward pressure on prices.  It's still a great time to buy, particularly if the prices keep trending up.