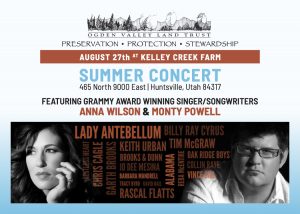 The Ogden Valley Land Trust is proud to announce the return of their  annual summer concert for 2021, with a performance by Grammy winners and Golden Globe nominated singers, songwriters, and producers Monty Powell and Anna Wilson.
The evening program, a fund-raiser for the Land Trust, will be held August 27, 2021, at Kelly Creek Farm, in Huntsville.  Admission price is $50.00 per person.  There will be a silent auction.
The Ogden Valley Land Trust is an organization critically important to preserving, in perpetuity, iconic properties, farms, wildlife habitat, and the idyllic beauty and open space of the Valley we all cherish.  The Land Trust can also act as the last line of defense against development of key properties deemed inappropriate for development.
The Ogden Valley Land Trust is fresh off a major victory with the preservation of 1,000+ acres of what was formerly the iconic Huntsville Monastery.  Please order your tickets today and help us continue the good work and growing influence of the Ogden Valley Land Trust.
CLICK HERE TO PURCHASE TICKETS